Storytelling in Copywriting
A storytelling approach used in copywriting is narrating the core message of a company or its goods in order to engage and fascinate the audience.
Storytelling is a great tool for infusing emotion into copy and for creating vivid images of the benefits that a product or service provides its customers.
It is the purpose of this essay to examine ways that you might utilize narrative in copywriting to improve the effectiveness of your message.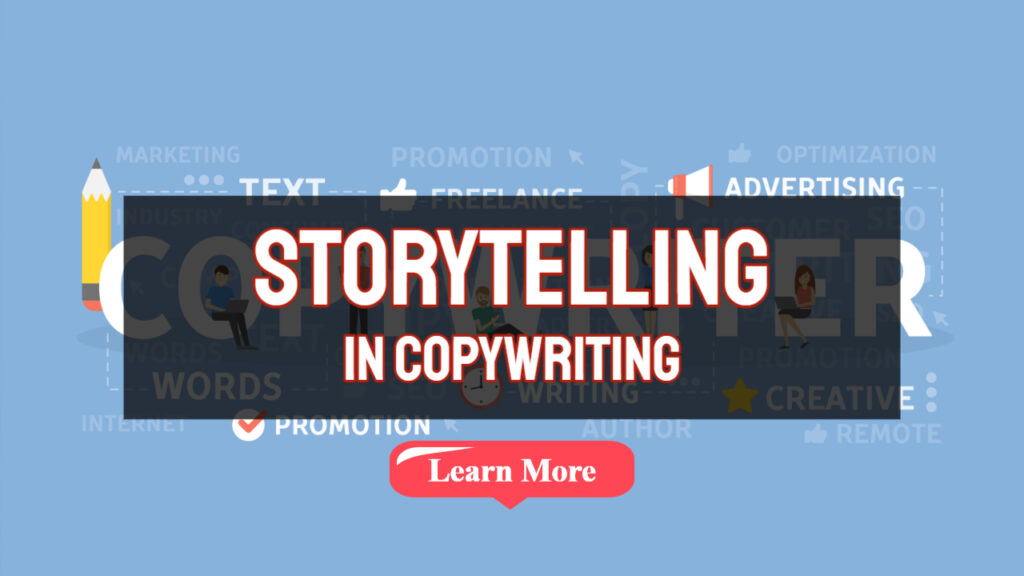 Benefits of Using Storytelling In Copywriting?
Storytelling is a powerful strategy in how a business promotes the benefits of its brand, services, or goods. While copywriting is primarily about convincing your audience to take action, the greatest method to achieve persuasion is typically through storytelling.
Stories in copywriting let the reader construct a compelling image of how certain products/services might affect their life.
Storytelling allows you to overcome any doubts or unbelief in the goods or services. It helps take your audience from a state of doubt, fear, and unbelief to seeking a reality where they have already bought your goods.
Storytelling helps to bridge the communication barrier and offer relatable facts about the effectiveness of a product.
How does Copywriting enhance storytelling?
Stories may belong. They can have side storylines and provide superfluous backstory to generate depth. They can also be untidy and leave the reader bewildered. Here are ways in which copywriting can strengthen storytelling.
Brevity
Copy can only be as long as it needs to be. This might be 50 words or 10,000 words, but its role of persuasion stays constant.
On the other hand, a tale may be as lengthy as you fill in the details. When merged with copywriting, the purpose of storytelling is to generate succinct, effective, and memorable messages that affect the reader.
Copywriting gleans the unneeded side stories to focus the tale on taking the reader to a place where they are persuaded of making a purchase choice.
Clarity
According to Hubspot, copywriting avoids jargon and exaggeration. Copywriting helps you deliver the information that is actually distinctive and vital about a company or its products.
Copywriting aids storytelling in accentuating the essential idea that communicates to the reader.
Copywriting helps trim away the unneeded words, even to rewording your statements for direct effect.
Tips for Incorporating storytelling in copywriting
Read Your Audience
Understanding your audience is vital in how you build copy narratives. Your first step should be in knowing the business or product/ service you are writing about.
Ensure that you have a strong grasp of the audience to produce relatable stories.
Start by listening to your audience. Understand what your audience would like to know and the best manner to connect with them.
By knowing their difficulties, priorities, and aspirations, you can link the facts in your copy stories for better effect.
Stay Relevant
Stories only function successfully if they are relevant to your audience. Your story should resonate with what your audience wants, needs, or even thinks.
The greatest method to evaluate if a story is relevant to your audience is through research. Start with the story you are writing about. Know what your audience wants to know, and how they communicate.
Understand The Hero's Journey
Storytelling and copywriting rely on knowing and understanding the hero's journey.
Joseph Campbell and other former writers established a procedure for taking a reader from a state of not-knowing to perfect knowledge, which we now call the hero's journey.
The hero's journey follows an archetype of a hero who embarks on a trip, learns a lesson, and uses the information to conquer and overcome challenges in their quest.
The hero's journey aids you in crafting stories that are unique to your brand. It also helps you lay out a path that you can guide your audience on in their search to address the difficulties they have.
Storytelling helps you engage your audience and build the concept that they can be heroes in their own journey too. Your tale will assist people to go past their limiting beliefs into adopting an action that will correspond to the transformation that the hero's journey reveals.
Applied to your copy tales, the hero's journey helps you lead your audience from understanding the difficulties they confront to the product that will change their lives around.
Conclusion
Storytelling is a strategy that has been around for centuries and is still one of the most potent ways to communicate with your target audience. Consider employing storytelling if you're searching for an easy strategy to enhance engagement in your marketing initiatives.
Storytelling in copywriting will assist boost the value of information by exciting the imagination of your target audience, inspiring them to take action or have a good experience with your product or service. Storytelling will also help you transcend past doubts, worries, and beliefs that your audience may have as you assist them to relate to the notion of being a hero in their own path.
References
[1] https://blog.hubspot.com/marketing/good-copywriting-practices-list
[2] https://www.watershedlrs.com/blog/business-and-data-alignment/data-storytelling-knowing-your-audience/
[3] https://www.crazyegg.com/blog/power-of-story/
[4] https://www.masterclass.com/articles/writing-101-what-is-the-heros-journey
[5] https://copywriters.com/blog/post/make-your-customer-hero
The post Benefits of Using Storytelling In Copywriting appeared first on https://gqcentral.co.uk