Not every business can afford, or perhaps even need a dedicated invoicing generator. If you generate invoices only occasionally, or if you simply want to save time and money on administrative work like invoicing, creating your invoices by hand (with, say, word processing software) might not be a bad idea after all.
But for many other businesses, especially those that generate a large number of invoices, the idea of creating invoices by hand is simply not feasible. A lot of businesses simply can't afford to invest time and resources into creating invoice templates, and would much rather automate most, if not all, invoice generation tasks, and focus on generating invoices more often.
If you fit within this category too (and you should), then, if you're able, and if your business generates invoices a lot, there's no reason not to try to automate invoice generation as much as possible. And with the advent of Hiveage Invoice Generator, it's now possible to automate some key parts of invoice generation, so that you and your employees don't have to be involved in the decisions that influence the appearance of every invoice.
Or there's an even better option: simply use our free invoice generator!
This new tool by Hiveage makes most of the invoice-specific features of our popular invoicing software freely accessible online. You don't have to sign up for an account or add any data for reuse: just type in the information each time you want to create an invoice and it will prepare an elegant PDF file complete with your branding.
Our goal in designing the free invoice generator was for it to be the ideal tool for freelancers and small business owners who are just starting out. Usually, new businesses have a low volume of invoicing, and it makes more sense to hustle your way through those early days using tools and services that are accessible at low or no cost. When there's too much sales and information to keep track of manually, you can switch to an efficient invoicing service like Hiveage.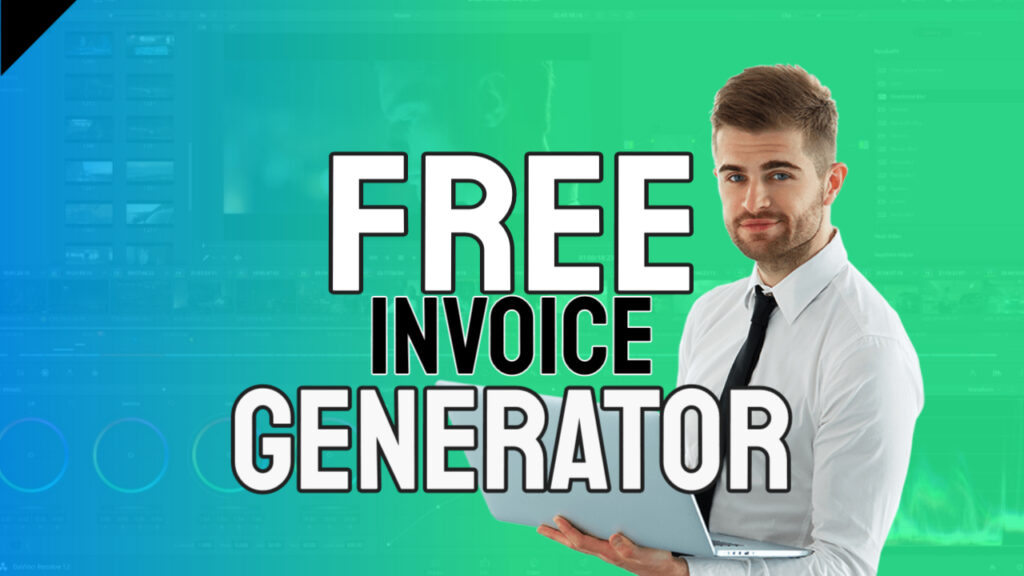 Using the Free Invoice Generator
Creating invoices with our free tool is simply a matter of typing the correct information into the relevant form fields. The following is a brief description of each of the most important fields:
Your Business Logo
An invoice does not necessarily have to carry your branding, but it certainly makes a lot of sense to add it. Your logo on the invoice is an opportunity to strengthen your brand in the mind of your customer.
Contact Information
The invoices you send must carry your business name and contact details (in the From field), and your customers' details (in the To field). These are essential elements in an invoice that are used in accounting and tax filings.
Invoice Number
Every invoice sent by a vendor should have a unique number. The easiest way to do this is to have a single invoice numbering format and increment the number per invoice you generate. In fact, in some jurisdictions, a sequential invoice number is required by law. The easiest approach is to simply start with one (1) and work up from there. However, it is common to have a prefix (e.g.: INV-001) or a bigger starting number (e.g.: 1001).
Invoice Date and Due Date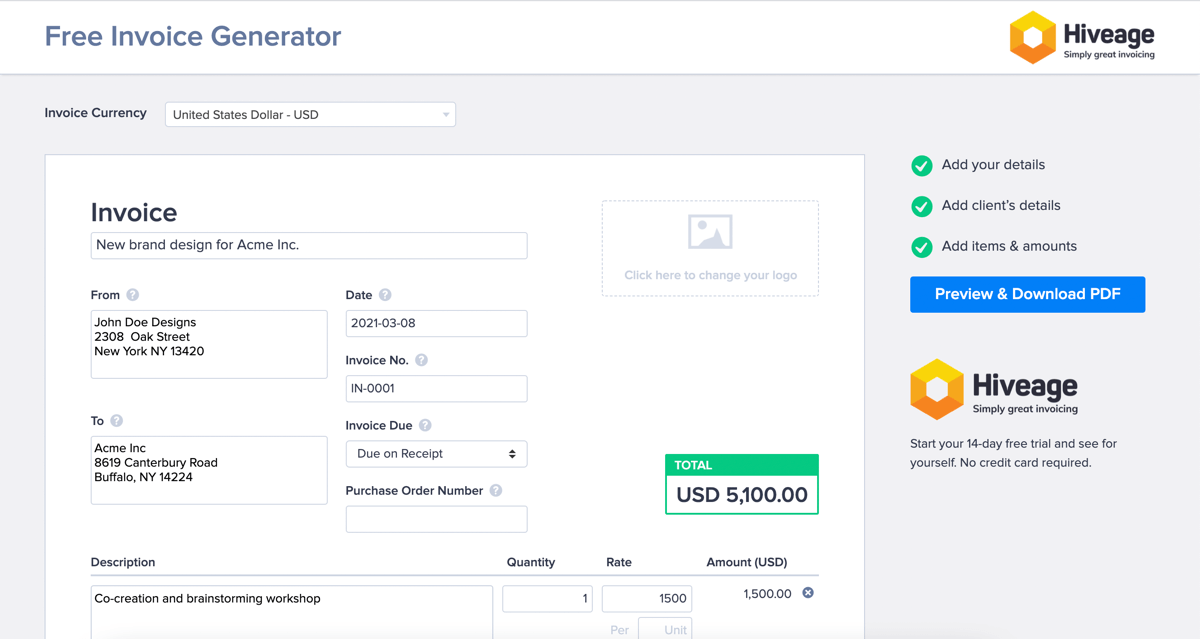 The invoice should specify when it was sent, and when the payment is expected. In most cases, a due date of 14 days or fewer yields the best results.
Line Items
This is where the money happens. You should include a sufficiently detailed listing of the products or services you are billing the client for in your invoice. These details are organized as line items, specifying the product/service, amount, rate (per item) and the total amount to be paid for that particular item.
The free invoice generator—just like Hiveage—supports four types of line items:
Item, as the name implies, is the most common line item type. Here, you simply mention the goods or services, their quantities and the rate. The amount will then be automatically calculated for you.
The Expense line item type can be used when you're billing the client for a straightforward expense where there's no need to mention the quantity or rate: simply type in the description and amount.
With the Mileage line item type, you can set a per mile or kilometer rate. The free invoice generator will then calculate the amount based on the distance and rate.
Use the Timeline item type to bill for your time: mention the task in the description field, enter the time you have spent on this task in HH:MM format in the quantity field, and set an hourly rate.
For all these line item types in our invoice template, you can include a date (e.g.: the date worked on a task), and links (e.g.: a web URL where the work is available for view).
Free and Premium Invoicing with Hiveage
The free invoice generator is our way of helping budding entrepreneurs with their administrative work related to getting paid.
For growing and mature businesses, our online invoicing software offers an easy-to-use, elegant and efficient way to send invoices and estimates, accept online payments, manage recurring and subscription billing, view detailed financial reports, and much more.
Visit www.hiveage.com to learn more about how we can help you get paid faster.
The post Get Paid Faster with the Free Invoice Generator from Hiveage first appeared on https://www.vesess.com/.
Additional Invoicing Information
Here are some ways that invoice generator can help:
* Hiveage Invoice Generator makes it possible to build an invoice that is more professional and less prone to errors than before. You can choose from a range of professionally designed templates. You can also download templates directly from third-party websites. The possibilities are nearly endless here, and you can make your invoice look exactly as you want it to so that your customers will see it in the way that you envision it.
* The way that invoices are formatted in Hiveage has been completely redesigned. The invoices generated with Hiveage invoicing software look great. As your need grows, you can add custom text and images to invoices. The amount of customized fields you can place in invoices is nearly endless.
* Invoice Generator is designed for use with Hiveage Invoicing Software. You can easily place invoices in one of two ways. You can place the invoice in the Invoice group of an Hiveage chart of accounts, or you can place the invoice in a Custom Invoice area that is pre-configured in Hiveage. Either way, the invoice is automatically closed in Hiveage Invoice Generator. If the invoice exceeds the space available in the Custom Invoice area, you can then choose to close it on either general, vendor, or customer terms.
* You can choose to include or exclude amounts in the invoices generated in Hiveage. In the Custom Invoice area, you can choose to make the invoices exclude amounts, or you can choose to include the amounts in the invoice. This can be customized in your invoice builder
* Invoice text and images you include with your invoices in Hiveage can be deleted in your invoice builder if you no longer need it.
* You can include your company logo, custom text, company dates, and company colors with your invoices. This can be customized in your FREE  invoice generator
* In the Custom Invoices area of Hiveage, you can customize your invoice's summary text and the summary image. In the summary text box on your custom invoice, you can type custom text and make the image include images of checks or invoice totals.
The Article Free Invoice Generator – Get Paid Faster with Hiveage was found on https://limitsofstrategy.com