What is Virtual Fax? The quick answer is that it's very much the same as using a traditional physical fax machine but everything is done virtually from the web. Of course, there is much more to know about virtual faxing than that. Plus, many young people have now never used or even seen a "fax machine".  Read on to learn more!
Virtual fax, also known as internet fax or online fax, is based on the cloud and the use of the internet as the main technology for sending secure documents to third parties. Simply put, it is an online system that allows companies to send and receive faxes from virtually any place that has an internet connection: either via email or through the cloud-based platform of the fax provider.
If you have never seen an old fashioned fax machine, let us explain! Fax machines first became common in the early 1980s after the ITU G3 Facsimile Standard was developed that made it all possible. This was before the world wide web (internet) existed. They were a device that was used to send documents electronically over a telephone network. The transmissions sent are documents as images as text and black and white images (facsimiles). A document is scanned in the sending fax machine and at first, could not be stored electronically so each fax was immediately printed on paper at the other end. These are called "faxes", and originally they could only be sent between two fax machines. Of course, very soon the digital technology developed, and they were soon being sent between a fax machine and computer. Today very few faxes are sent by fax machine having been replaced by the online fax service that is equipped to send and receive faxes.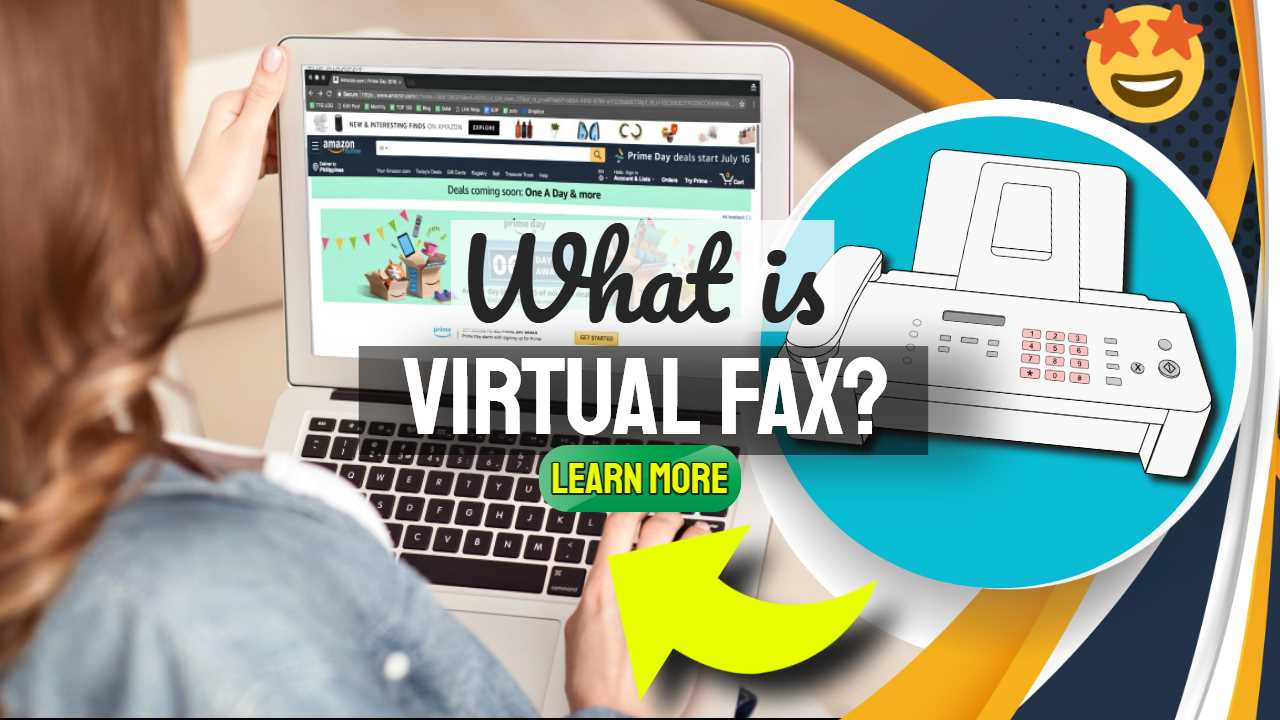 They were revolutionary in their day because until they became available, every document had to be sent through the post, or dispatched by a courier. The telegram was quickly superseded by the fax. It is fast becoming hard to imagine a world before the ubiquitous use of cloud-hosted servers. But when fax machines were invented storing data was far too expensive to be saved other than as a paper copy "print-out image".
How do I sign up for this type of fax?
You might think that fax has died and you are therefore doubtful of its value today. But that's not quite right.
Contracts, signed documents, and other key business paperwork are still often sent via fax, making it essential for businesses to have fax capability. But technology has changed – you're no longer locked into difficult, expensive phone-based fax systems. Take advantage of the conveniences of modern technology with VoIP fax solutions' benefits include send and receive faxes without a modem-based machine on your virtual fax number. It can eliminate the need for a dedicated phone line.
Inbound Routing to Email
Inbound routing to email is based on the number that the fax comes in on. For example, suppose you have an account that you set up with one line and your assigned fax number was 303-555-6789. Within the faxing website, you can control what email address or addresses will receive faxes that come into 303-555-6789. Now suppose you add a virtual fax number or a second line to the account. You now have both 303-555-6789 and 303-555-9101 as fax numbers. Each number can have its own list of email addresses (one or more addresses) that the faxes for that particular number will be emailed to. You can set up as many email addresses as you like by creating 'users' in the system.
You will need to have a faxing provider because Gmail doesn't have one of its own automatically built-in. However, some businesses' services do provide you with access to virtual fax services. Don't have a provider? No worries. There are plenty out there, and many have a free 30-day trial. So before you sign up for a service, give it a "test drive" to see if it will meet your needs. This kind of fax or "Efax" is one of these useful services and helps you discover how to send an email as a fax. Some services, such as Hellofax, have a Google docs add-on. This makes it much easier to send documents uploaded to your G-drive as a fax.
How do I Receive an Electronic Fax?
Digital communication has taken the place of faxes, and yet many business functions require that official documents get faxed between parties. Telebroad's efax support gives you full access to a virtual fax machine where you can receive and send faxes, even without an actual physical faxing device or a dedicated fax line. Faxes are stored digitally which saves on printing supplies and paper clutter and offers better organization, sharing, searching, and archiving of faxes. There are four different ways to use the virtual fax machine.
A virtual fax device is one that appears to exist to a user, but in fact, has no corresponding telephony application programming interface (TAPI) line device associated with it on a fax server. A fax service provider (FSP) that supports fax transmissions over the internet is an example of a provider that uses a virtual-fax-device. In this example, a physical fax device does not exist, only a connection to the internet. An FSP can present multiple virtual fax devices to the fax service if the provider exports the "faxdevvirtualdevicecreation" function. The fax service checks the FSP dll during initialization for faxdevvirtualdevicecreation. If the function is present, the fax service allows the user to send and receive faxes using the virtual device.
Here's How an Electronic Fax Machine Works
Virtual fax is based on the same principles as traditional fax, except that the transmission of documents happens using internet protocols rather than a standard telephone connection and an onsite fax machine. In this case, there is no need for software, a fax server, or a fax machine, as long as the sender and the receiver have an electronic device (a computer, tablet, mobile phone, etc.) with an internet connection.
From this form, it is possible to send a fax to a telephone or extension, either on the same PBX or outside it to a fax machine or virtual fax. Recipients: numbers to which the fax will be sent. The supported formats are pdf, tiff, txt.
Is it still possible to use a hardware fax machine? No. According to Vonage, there is no support for a physical fax machine. Vonage offers an add-on feature for a fax line. VoIP services such as Vonage are known to be very incompatible with fax machines. Even when a connection between a fax machine and a VoIP phone works, it is not reliable.
Your own virtual fax machine.
In the address field, the sender types down the fax number of the recipient, followed by the name of the fax service provider the fax machine reads the attachment and sends the data across the phone line. The recipient's fax machine, computer, or any other device used to receive the documents decodes the message and makes it available for the recipient.
The three ways to fax with a windows 10 PC
The 3-Ways to fax with a Windows 10 PC are:
An online fax service (a virtual fax machine accessed through the internet).
A fax machine (or multifunction printer/scanner/fax/copier) that connects to the computer and faxes through a landline phone line.
With software (such as Windows 10's included "fax and scan" program) which turns the computer into a direct replacement of a hardcopy fax machine.
A 212 fax service gives you a premium 212 area code manhattan number to receive your faxes on. Fax rates this is priced as follows: 212 fax service – $10 a month, with no setup fee to retrieve faxes you would simply dial your 212 fax number from any fax machine. 212 fax service with the email delivery of faxes is $10 a month with a one-time setup of $10. Receive your fax messages via email as a Pdf. Shared office fax is also available for virtual office clients where received faxes are $1. 50 per page and are sent via email.
Enable eFax
Business is no longer tied to the office and your business communication tools shouldn't be either. Virtual fax, momentum's cloud fax service, enables users to send and receive faxes on any internet-enabled desktop, laptop, smartphone, or tablet device. So if you have access to your email, you have access to your faxing services. It's simple. It's fast. It's secure. It's the latest technology for less. Virtual fax is just one of the many virtual services that momentum offers. It has been said that this service is the best thing since sliced bread. Invoices, contracts, and specifications come straight to your inbox. The fax system makes it easy to identify and discard junk faxes, and saves people from having to check the fax machine several times a day.
Virtual fax servers quickly became the standard platform of choice, as corporations were making the shift from physical servers and locally-installed client applications to such virtualization technologies as VMware, Microsoft hyper-v, XenServer and Citrix.
Benefits of eFaxes
Virtualizing fax servers enables better management of fax server resources. Virtualizing the servers also makes it possible to run workstations and servers with different operating systems on the same fax server(s) concurrently. In this way, virtual servers enable users to do more with less. Fewer fax servers are needed to get the same fax capacity, saving money on hardware. Switching to a virtual fax server solution can reduce operating costs while still maintaining a high-volume fax service.
Pangea's white-label reseller (VFR)  program for service providers enables VoIP providers, ISPS CLECs, telcos, and other service provider companies to quickly, easily and inexpensively add reliable internet fax services under their own brand to their portfolio of service offerings increasing revenue, reducing churn and adding to the bottom line. Pangea's VFR solution is built on Pangea's 20+ years of development and experience in internet fax and offers its resellers the highest reliability, features, flexibility, and value.
Virtual Fax Inbound Route
With UCX virtual fax, there is no need to have a traditional fax machine as faxes can be both sent and received electronically using this feature. You can send a fax directly from your PC by installing a third-party fax client that will utilize the UCX virtual fax server. The UCX administrator can configure the inbound route to auto-detect a fax connection so you can share a single did number for both voice and fax communications.
The fax tab in the web-based configuration utility contains pages that allow you to configure the virtual fax server on your UCX system. With UCX virtual fax, there is no need to have a traditional fax machine as faxes can be both sent and received electronically using this feature. You can also configure your inbound route to auto-detect a fax connection (the fax calling tone – also referred to as the CNG tone) so you can share a single did number for both voice and fax communications.
Check with your UCX administrator if the following has been configured on the UCX server:
virtual fax created with your email address associated with it. The inbound route to your did number is configured to receive both fax and voice. When a fax is detected, it is routed to the fax extension.
How to use virtual fax to send and receive fax
Innoport Express offers pay per fax and virtual phone services. It's a simple, quick, and reliable way to send and receive faxes one time or multiple times and to receive calls using our highly versatile virtual phone service. No registration or subscription needed!
Reliable faxing is a necessity for most businesses. Ooma office can be used to send and receive faxes in two different ways: traditional faxing and virtual fax. Traditional faxing supports an office setup with a physical fax machine that is centrally located, while virtual faxing allows individual employees to send and receive faxes from anywhere. Depending on your company's needs, you can set up one or both options.
All Group Virtual Fax Plans Feature:
Now suppose you add a virtual fax number or a second line to the account. You now have both 303-555-1212 and 303-555-1213 as fax numbers. Each number can have its own list of email addresses (one or more addresses) that the faxes for that particular number will be emailed to. You can set up as many email addresses as you like by creating 'users' in the system. There is no additional per-user charge for additional users. A: Yes, if you purchase two lines, then you can receive two faxes at a time, or three if you purchase three lines and so on. This rollover or hunting is automatic with no setup required on your part. These statements only apply to plans that feature unlimited inbound, as you are purchasing capacity for unlimited use.
Free fax lets you send multiple formats like – images, office files, pdf, text files, printer file formats. They have a 30-day free trial, and one good thing about this service is that you can use your old fax number while using it. On becoming a free fax member, you get additional features like speed dial, your custom fax sheet, virtual fax that allows you to receive fax by email, and group faxing.
Great Rates On eFax Numbers
Finding virtual fax numbers has never been easier. Navigate our online control centre to see how easy it is to manage your account and call forwarding settings. See why toll-free forwarding is the best choice for your fax numbers.
Discover for yourself how much time and money an internet fax service can generate for your business through eFax's free 30-day trial. Our online fax service frees up precious resources, allowing you to run your own virtual office from anywhere. Reserve a fax number from our database of more than 4900 area codes. Select fax numbers from different regions and cities across Australia or around the world. Get immediate activation today without any financial risk and cancel anytime if you are not completely amazed by our service. Experience the full power of our virtual fax software that lets you send and receive multiple faxes simultaneously, right from your desk. For even greater freedom, try faxing from the palm of your hand using our new smartphone app! connect up to five email addresses and allow your team to coordinate your faxing projects.
Toll-free forwarding offers the best service and prices available on virtual fax numbers. Best of all, there are no contracts, and you can cancel anytime. With virtual fax numbers, your customers will be able to call you at no cost to them, and their calls can be routed to any of your existing phone lines, including cell phones, office phones, or PBX systems. Get your virtual fax numbers now. These can be the best fax numbers available, but if you need international virtual numbers we also have great rates on international virtual numbers and great virtual 800 numbers with our extensive virtual 800 numbers options.
Find eFax Numbers For Your Business
The virtual fax service is only available for U. S. And Canadian did numbers specifically acquired from the fax numbers order did section. It is also possible to port your VoIP. Ms voice did numbers and numbers from other providers into our virtual fax service. For numbers from other providers, you can find this option under the did portability section of the customer portal. For VoIP Ms numbers, you can request an internal port by sending an email to the lNP department.
Every business originates from a pain point. Often the market doesn't know exactly what it wants, but it is obvious that there is a problem that needs to be solved. Finding a solution to prospective customer pain points is the foundation of a business model. In a similar way, the "virtual revolution" among modern businesses has developed by examining inefficiencies in organizational processing and devising online solutions. One of the best examples of this type of virtual solution is an internet fax service. Businesses began to adopt virtual fax software as a replacement of traditional fax because there are inherent limitations of being tied to a dedicated landline.
How to add eFax to a user's extension
Virtual fax is offered as a digital faxing alternative that does not require a physical fax machine. All faxes are sent and received as pdf files through the end-user portal. The virtual fax feature comes with its own phone number for direct access, but it is linked to a specific user's extension. Each user can have their own individual virtual fax setup at no additional cost. If your extension does not have virtual fax enabled, you may need to speak to your account administrator.
How to manage a traditional fax machine's phone number and extension number
how to troubleshoot problems with your fax machine
how to set up virtual fax so incoming faxes are received by multiple users.
Any user can send and receive virtual faxes once the free virtual fax feature is added to their extension. You can add virtual fax to a user's extension by following these instructions:
log in to the office, as an administrator and navigate to the settings page. Click the add menu and choose virtual fax. Pick the phone number that will be assigned to the virtual fax. A phone number has been pre-selected based on your company's main phone number, but you can choose a new one by clicking on the suggested number.
Virtual Fax User Guide
Internet fax, like all VirtualPBX products, is backed by the award-winning customer support team that has us leading the way in service.
With virtual faxing, individual employees can send and receive faxes from anywhere using digital technology – no need for a traditional fax machine. The virtual fax feature comes with its own number for direct access; however, it is linked to that specific user's extension. The best part? Ooma office users can enjoy their own individual virtual fax at no additional cost. If your Ooma office extension does not have virtual fax enabled, you may need to speak to your account administrator to get it set up.
Have all your faxed documents in digital format for easy archiving and retrieval. Increase response rates in or outside of your office by accessing your faxes anytime, anywhere. Keep your overhead low with a fax to email service. Eliminate the cost of toner and maintenance for a bulky fax machine. Protect confidential information by keeping documents in your email instead of leaving a printed copy out in the open. Create a paperless office and minimize office waste with a virtual fax service. Enjoy complete flexibility with no lock-in and minimum term contracts.
The post What is Virtual Fax? Also Known as "Online Fax", "Electronic Fax" or "eFax" appeared first on GQ Central.